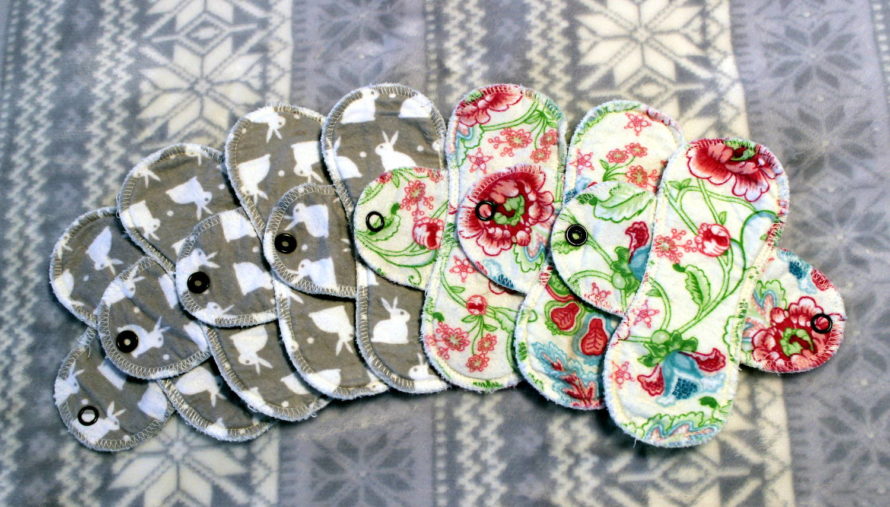 I've been suppressing my period with the birth control pill for so long, I don't remember when I started doing it. But I haven't had a full blown period in easily over 5 years. I know some people have opinions on doing this but many medical professionals say that there is no medical reason to have a period when one takes the birth control pill – but that's not really what this post is about.
Every now and then, my mail order pharmacy doesn't send my refills soon enough for me to skip the inert pills and start the next pack. So, I might have a little spotting here or there. The last time this happened I tried using some god awful plastic-y disposable pantyliners and they totally rubbed me the wrong way – literally. I mean, not only were the pantyliners made of some terrible material but my vulva had grown sensitive since I hadn't needed to use pads for years.
I had heard of GladRags somewhere on Twitter and promptly made my way to their site and purchased 7 of their cloth Pantyliners. When they arrived I couldn't wait to get that disposable sandpaper pantyliner out of my underwear. I affixed one of the GladRags Pantyliners with the snap closure, pulled up my undies and experienced sweet relief. It was exponentially more comfortable than those disposable liners. And my vulva could breathe!
Keep in mind, I wasn't dealing with a heavy flow. GladRags has other pads for that but for the light spotting I sometimes have, the Pantyliners are perfect. I do think I would have been better off purchasing some of the Pantyliner Plus pads because they're a bit longer and I feel like I need more coverage. But that was my mistake for not ordering the right product for me.
I have absolutely no complaints with the GladRags Pantyliners. I'm not sure how I'd feel about using their cloth pads with a heavy flow but there are folks out there doing just that. I love the idea that I'm not throwing more crap into a landfill and I'm supporting a small business that makes its products in the USA.
Why would anyone want to use reusable cloth pads?
Good for your body – Conventional disposable products can contain plastics, artificial fragrances, adhesives, and chemical gels – things you don't want next to one of the most sensitive parts of your body!

Good for your budget – Once you purchase a full set of GladRags, you'll have reliable menstrual protection for years to come.

Good for the planet – A menstruator will use 12,000 to 16,000 disposable pads, pantyliners, and tampons in their lifetime.
Want to see what their products are like? Well, it's gonna be someone's lucky day because GladRags is giving away one Pantyliner Plus (choice of print or organic) to one of my readers. I think once you feel the difference, you'll be sold.

Open to US residents. Must be 18+ to enter. Prize will be shipped by GladRags. Winner will be contacted by email and will have 3 days to respond otherwise, a new winner will be drawn. Giveaway ends 12/19